Hello my loves! You may not know this yet but I'm rather fond of decorating! I see my home as my kingdom, my personal sanctuary, my safe haven…well you get the point 😉 . And as you can see there's a lot to be said about the house you go to sleep in every night! There's even more to tell about the interior and it doesn't matter if it's industrial, nautical, mid-century modern, victorian or even futuristic (if you're into that sort of thing), there always comes a day when you feel the impulse to revitalize the entire space. Nevertheless it can be a tiresome, time-consuming and a tedious task. That's why I created this list to show you that a few little decor changes can go a long way!
AN OLD WORLDMAP
If you have a passion for travelling or cartography, you're going to love this! In matter of fact as a kid I spend hours browsing through atlases, absorbing every detail (a true geek at heart!). And you'll be surprised that a world map is mainly used for decorative purposes instead of geographical ones nowadays. And can you blame them? They add a unique charm to your interior! Whether you hang it above the couch as a center piece or above your bed marking your previous destinations with pins.I already  got my hands on this beauty. What I especially like about it is that it looks like an oil painting, but in reality it's plexiglass. A recommendation if you're all in for durability and modernism (count me in!). Where to buy a map on glass? Well your questions are answered (click on the link!). Also check out photo on glass if you want your own image printed on glass!
A CRYSTAL CHANDELIER
When choosing a crystal chandelier there are three fundamentel elements you should keep in mind: space, budget and personal style. Personally, I'm obsessed with everything that's on the edge of gaudy, which means the more ornaments the better! Thus it comes as no surprise that my chandelier of choice is a striking red/black swarovski crystal glass chandelier from Artemest. It's vibrant, elegant and will perk up any living space. The key for a well-placed chandelier is to make it the centerpiece of the room. Just don't go crazy with the rest of the furniture!
A VINTAGE TRUNK
This vintage Louis Vuitton trunk is without a doubt the must have of the century (at least in my book ;)). What I love the most about these trunks is the fact that they age wonderfully.  The combination of the craftmanship, the patina on the hardware and the details is what make these so desirable! Whether you turn it into a coffee table, center piece or put it under a glass dome. These trunks will bring a vibe of classic opulence to even the most urban households. And good news! Any vintage piece will do, that's why I highly advice you to browse around in your local vintage or antique store. You never know what you might find!
A FUR BLANKET
Obliterate the thought of a plain wool blanket on your couch and proudly opt for a version in fur! It will not only catch visitors' attention but it's also extremely cozy to begin with. That doesn't mean you should opt for the real deal (there are many beautiful faux options out there). But knowing me, I'd opt for the real deal in a heartbeat. My favourite fur find of the day is this silver fox blanket from Liska. It's elegant, luxurious and will turn your couch from dull to eye-catching in no time!
STRING LIGHTING
Imagine this: You're hosting a dinner party, your guests are seated, the food is ready to be served and the only thing that's missing is a little atmosphere. I have the ideal solution, string lighting! What was first only destined for gardens and teenage tumblr rooms is now the ideal way to create a soft, warm environment that everyone can enjoy! With these luxurious luminous gold palm leaf lights from Hurn&Hurn you can turn any gathering in a pleasant one, especially when placed on a low cabinet or the dinner table. But you don't have to limit it to the dinner room only, I believe it can be placed anywhere!
AN OLD SEWING MACHINE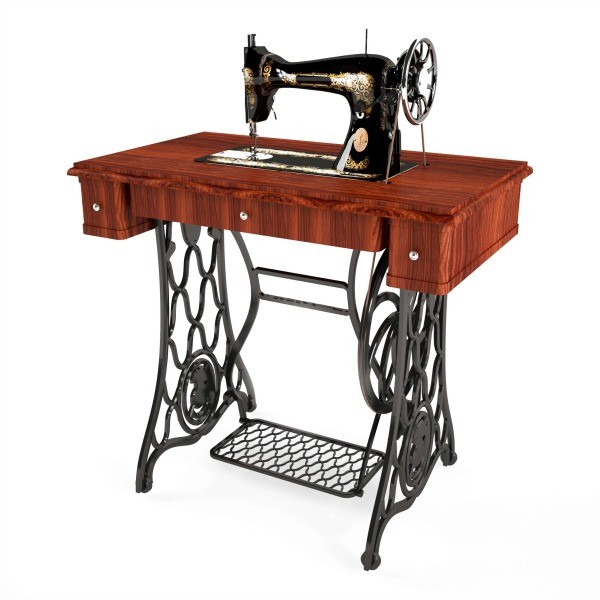 You know what  they say about shoes: they will make or break an outfit. It's pretty much the same when it comes to furniture. You have to think of them as ornaments. Take this antique sewing machine for example, it might have no practical use anymore but it's a fabulous addition to your collection and a beautiful piece of history!  Also It will look remarkably trendy and stylish when placed in the living room, the hallway or the bathroom (yes, bathroom..you red it right). Create something unique by putting a sink on it. 🙂
Have fun decorating, XOXO, Gianni